Wars of the Diadochi > Syrian Wars > Third Syrian War
Third Syrian War

Background
Third Syrian War
Part of the Syrian Wars
Part of the Wars of the Diadochi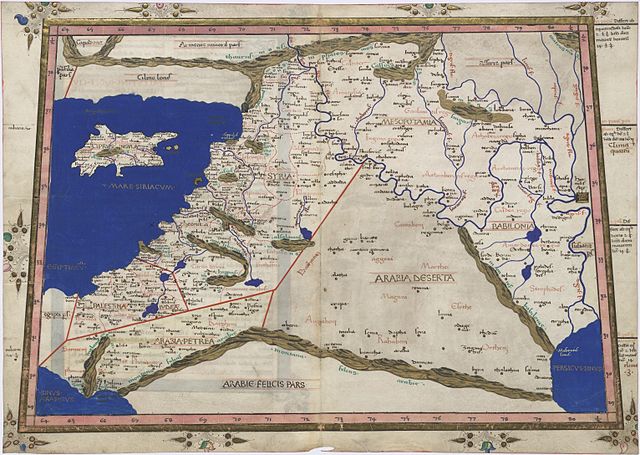 Ptolemy Tabula Asiae IV - Nicolaus Germanus (1467)
Began: 246 BC
Ended: 241 BC
Battles
Previous: Second Syrian War
Next: Fourth Syrian War
Third Syrian War (246–241 BC)[edit]See also: Battle of Andros (246 BC)Also known as the Laodicean War, the Third Syrian War began with one of the many succession crises that plagued the Hellenistic states. Antiochus II left two ambitious mothers, his repudiated wife Laodice and Ptolemy II's daughter Berenice Syra, in a competition to put their respective sons on the throne. Laodice claimed that Antiochus had named her son heir while on his deathbed, but Berenice argued that her newly born son was the legitimate heir. Berenice asked her brother Ptolemy III, the new Ptolemaic king, to come to Antioch and help place her son on the throne. When Ptolemy arrived, Berenice and her child had been assassinated.Ptolemy declared war on Laodice's newly crowned son, Seleucus II, in 246 BC, and campaigned with great success (his forces possibly being commanded by Xanthippus of Sparta, aka Xanthippus of Carthage, the mercenary general responsible for defeating a Roman army at Tunis/Bagrades in 255). He won major victories over Seleucus in Syria and Anatolia, briefly occupied Antioch and, as a recent cuneiform discovery[1] proves, even reached Babylon.
See Battle of Andros
These victories were marred by the loss of the Cyclades to Antigonus Gonatas in the Battle of Andros. Seleucus had his own difficulties. His domineering mother asked him to grant co-regency to his younger brother, Antiochus Hierax, as well as rule over Seleucid territories in Anatolia. Antiochus promptly declared independence, undermining Seleucus' efforts to defend against Ptolemy.In exchange for a peace in 241 BC, Ptolemy was awarded new territories on the northern coast of Syria, including Seleucia Pieria, the port of Antioch. The Ptolemaic kingdom was at the height of its power.
Diadochi Wars
Syrian Wars
Sources
Primary Sources
Secondary Sources